I love cook books from the 80's.  
Mushroom soup and mayonnaise. 
It's in absolutely everything from beef casseroles to veggie side dishes to cookies.
I am notorious for starting to bake something and then realize I don't have the ingredients.  
I have great memories from when I was a kid and My Mom would send me next door to Mrs. Horner's to borrow an egg.  She also had air conditioning and we didn't, but that's another story for another time.
When was the last time you sent your kid next door to borrow something from a neighbour? 
Sadly, I don't think people even do this any more. I hardly even know my neighbours let alone ask them to borrow a 1/2 cup of milk.
That is what makes this recipe so amazing. If you don't have eggs or butter, you can just use Mayo!  
And these are now forever renamed to …..
Mommy's Weird Genius Cookies
1 cup of white sugar
2 cups flour
1 cup of Mayo
1 tsp baking soda
pinch of salt
1 tsp vanilla
Mix sugar, flour, baking soda and salt. Then add the mayo and vanilla and mix the heck out of it.
Shape into little balls and then mash with a fork.
Bake 12 minutes at 350 F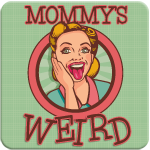 Kyla Cornish is a radio Dj adjusting to being a Momma of two children. Main problems? Lack of sex, Hot Mom's and too many books and movies to review. According to one, probably drunk commenter on her blog, "She is Canada's Version of The Bloggess". Kyla  has been published in a series of funny blogger ebooks, "Life Well Blogged". She has also been recognized by Circle of Mom's for Top 25 Canadian Mommy Bloggers and Top 25 Funny Mom's. She also won a baking competition when she was 11 at a 4-H Rally.

Find Kyla  here: 

http://www.mommysweird.com

 and follow on twitter @mommyisweird